On April 28, 2021, the CCIG in partnership with UPR Info facilitated a webinar on contextualizing Human Rights Indicators to specific country situations for Monitoring UPR Recommendations. The speaker, Ms. Nicoletta Zappile of UPR Info began by framing the session in relation to the previous training session, which focused on Identifying Human Rights Indicators as a tool to measure the commitment and the efforts undertaken by a State in relation to the UPR Recommendations. In fact, these indicators are very critical to assess State's compliance, accountability and transparency. An effective monitoring by Civil society actors also contribute to boost awareness-raising on human rights issues at the local level.
Nicoletta presented a Four-Step Approach in developing indicators: (1) identify the specific human right referenced in the UPR Recommendation, (2) identify the human rights attributes through the use of the UN Human Rights Table, (3) identify indicators for each attribute whether they are structural, process or outcome, and, (4) contextualize the indicators to the specific situation of the country concerned.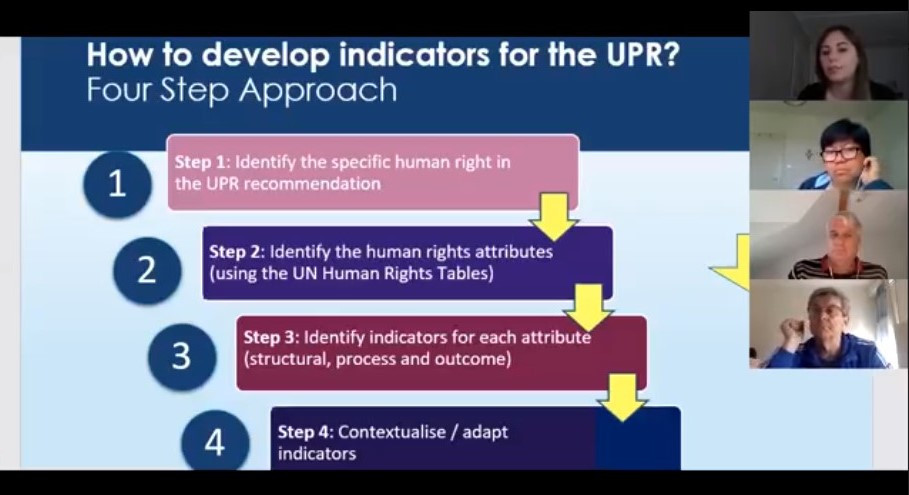 At the end of the session, she gave the participants an exercise to practice on. A follow-up session was held on April 30 where the participants presented their output.
This training is part of 2021 capacity building activities promoted by CCIG to empower Civil Society organizations to effectively engage with the UPR mechanism and contribute to the realization of human rights on the ground.