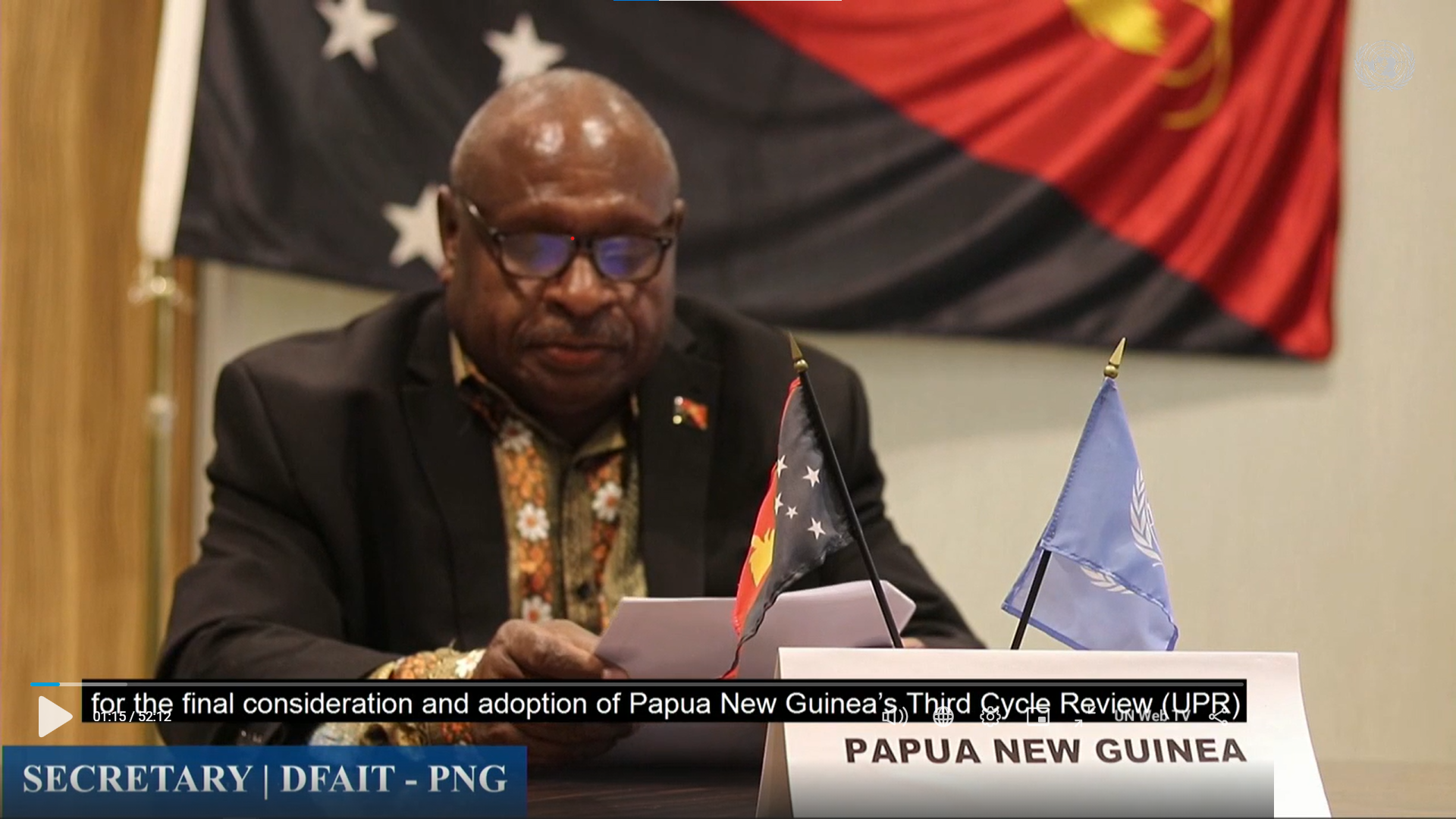 On the 23rd March 2022 the UPR Working Group Report on Papua New Guinea (PNG) was adopted at the 49th Session of the Human Rights Council.
PNG accepted 101 and took note of 60 out of the 161 recommendations received during the 39th UPR session.
On this occasion, the CCIG delivered a joint oral statement co-sponsored by Confédération internationale Société de Saint Vincent de Paul, Dominicans for Justice and Peace (Order of Preachers), Edmund Rice International, Fondazione Marista per la Solidarietà Internazionale, International Volunteerism Organization for Women, Education, Development, Istituto Internazionale Maria Ausiliatrice, and Mouvement International d'Apostolat des Milieux Sociaux Indépendants. The statement was also supported by several international and local NGOs, such as: Callan Services for Persons with Disabilities National Unit PNG, Catholic Bishop Conference in PNG, Marist Brothers Province of Australia, International Catholic Mission Society missio Aachen, and Ozeanien-Dialog.
This NGO coalition highlighted how, despite much discussion over recent years to address the poor representation of women in public institutions, no women were elected to Parliament in the 2017 elections. The upcoming 2022 elections constitute a key time to increase women's representation. Equally worrying is the issue of gender-based violence, with 900 cases reported in 2019-2020, among which 81 cases involved girls. Belief in sorcery is also widespread across PNG, causing acts of torture often leading to death, especially for women and girls.
Regarding children's rights, accessibility to primary and secondary education is a major issue, due to the remote locations of many schools and to their lack of resources and trained teachers. Children with disabilities are particularly affected: only five out of 19 Inclusive Education Resources Centers (IERCs) offer inclusive learning. Moreover, PNG is yet to establish a national disability data management system. Persons with disabilities are also greatly exposed to violence and excluded from participation in public affairs.
Finally, environmental and social impacts are often ignored in the context of mining in PNG. The Government and companies involved fail to carry out adequate consultations with affected populations. Among others, the Frieda River copper and gold mine is threatening 400 000 Sepik Indigenous Peoples, their identity, home and environment as pointed out by 10 UN Special Rapporteurs. PNG is also the world's largest tropic timber exporter. However, 70% of its logging activity is illegal, unsustainable and greatly affects local indigenous communities.
Accordingly, the NGO coalition led by CCIG, recommended to proceed with immediate and effective implementation of relevant UPR recommendations in PNG.
The video of the oral statement delivered by CCIG is available here. To watch the whole discussion on the UPR outcomes of Papua New Guinea at the 49th HRC, please click here.